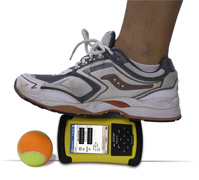 Go ahead and step on it. The PC can take anything you've got!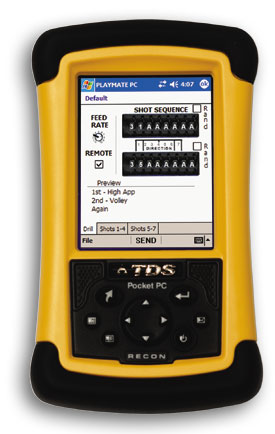 It's Wireless...
It's Indestructible...
It's the...
THE PLAYMATE PC

The PLAYMATE PC is the state-of-the-art in ball machines. The wireless controller allows you to save and recall an endless assortment of drills at the touch of a button. It can throw 8-shot combinations allowing you to teach groups of students or focus on a single player. There's no more fumbling around with knobs and switches with the PC. Just select one of your drills or one of ours and hit
SEND
. Complex drills can be setup effortlessly in a matter of seconds.
KEY FEATURES
Wireless
Waterproof
8 Programmable Shots
8 Shot Delays
Endless Saved Drills
Programmable Random Shot Sequence
Includes Many Standard Teaching and Personal Use Drills
Create Drills at Home or in the Office using
Remote Display Control (712 KB DOWNLOAD)

Pocket PC Has Extra Long Battery Life
Holds 300 Balls
Variable Topspin and Backspin
7 Position Programmable Electronic Direction with Programmable Random
Variable Electronic Height
User-friendly
SERVE LIFT Friendly
2 Function Remote Control
(On/Off with drill reset)

3 Year Limited Parts Warranty
(ball machine only)

MSRP
$8,210.00 USD
(INCLUDES BALL MACHINE)
---

UPGRADES
The PC is compatible with all of these controllers. Just unplug the PC controller and plug in one of these...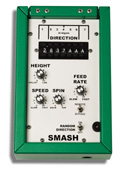 SMASH

$345.00 USD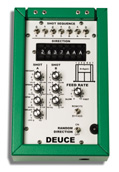 DEUCE

$1,185.00 USD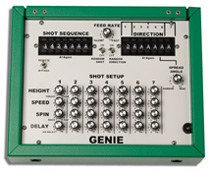 GENIE

$2,025.00 USD
©2012 METALTEK. All Rights Reserved.
Toll Free: (800) 776-6770
Direct: (919) 544-0344